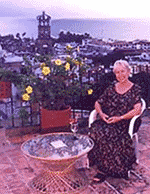 Welcome to the prettiest hotel in all of Mexico. That's how the artist Tamayo felt about it, as do today's savvy visitors who return here again and again. Woven into a hillside with cascading tropical flora and terra cotta roofs, this tranquil oasis is right in the heart of the atmospheric old town while just minutes from Vallarta's stunning beaches. Yet, its aura is that of long ago Vallarta.
The gracious and well traveled owner, Gloria Whiting, shows a deep appreciation for her chosen country's natural beauty, obvious in her attention to detail. Colourful rooms are charmingly decorated with Mexican handicrafts bearing pride of workmanship.

Gloria ensures visitors quickly feel at home here in Puerto Vallarta, passing along information and helpful hints so that each guest has their ideal Vallarta experience.

Amenities include a refreshingly cool deep pool, the town's best-loved venue for super sized margaritas and spectacular sunsets, three scenic levels with stair access, El Nido (The Nest) rooftop bar, and the romantic and inviting Chez Elena Restaurant, a favourite with locals and visitors alike since 1954.

Our friendly staff is waiting to hear from you, to offer the best in service and hospitality in the heart of Old Town Puerto Vallarta!