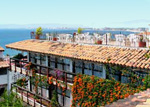 Discover the romance and tradition. While on vacation, bask in the gentle four winds breeze on our rooftop terrace, El Nido, with one of our famous Margaritas, once extolled in Playboy magazine as the best in Puerto Vallarta. Experience the magic of old Vallarta, the spirit of colonial hospitality and the broad vistas of Banderas Bay that conjoin at Cuatro Vientos, a charming, intimate inn nestled into the hillside above the heart of Puerto Vallarta.

Relax, refresh, renew and enjoy new friends all waiting for you at one lovely location.

This captivating, small inn and restaurant became a meeting place for some of Hollywood's greats. Peter O'Toole, Elizabeth Taylor, Richard Burton, Anthony Quinn and Robert Shaw all frequented Los Cuatro Vientos and Chez Elena.
Los Cuatro Vientos, or The Four Winds, lives up to its name, drawing discerning clientele from all points of the compass. The attraction of authentic Mexico combined with the convenience - but not the constraints - of all-inclusive comfort, attracts adventurous travelers to this peaceful garden setting, season after season. This American owned and managed establishment is the longest and continuously operated restaurant and small hotel in the city.

We invite you to explore our website and discover how Cuatro Vientos can become a key part of your memorable experiences in Mexico.